Hurun India Rich list 2017 sees 278 new Indians join elite club of billionaires with wealth of Rs 1000 crore or more
Demonetisation and the Centre's hasty implementation of the Goods and Services Tax (GST) regime may have broken the back of India's biggest job creator – the massive informal sector – but seems to have had little effect on the country's biggest corporate houses.
The 'India Rich List 2017' compiled by China-based Hurun Report, has listed 617 Indians with wealth of Rs 1,000 crore or more, up 278 from the previous year.
While Reliance Industries top honcho Mukesh Ambani has predictably preserved his top slot on the list for a sixth consecutive year, albeit with a 50 per cent rise in his wealth, the real surprise has been the incremental gains made by Acharya Balkrishna – the corporate face of Baba Ramdev's Patanjali Ayurved and controversial businessman Radhakishan Damani, founder of the D-Mart chain of multi-brand retail stores.
What is interesting about this year's India Rich List is that though by virtue of the sheer enormity of his wealth, Ambani's 'moderate' 58 per cent fiscal gain has translated into his actual wealth being estimated at a staggering Rs 2,57,900 crore but Balkrishna, Damani and the lesser known Endurance Technologies managing director Anurang Jain have all registered triple-digit gains.
Damani is clearly the biggest individual gainer on the list, notching up a mammoth 321 per cent increase in his wealth riding on the success of the IPO launch of his flagship company – Avenue Supermarkets. The D-Mart founder's personal wealth has been pegged at Rs 29.700 crore by Hurun Report while his family's wealth has been estimated at Rs 51,779 crore.
Balkrishna, who the report calls the 'FMCG Super Yogi', has stormed into the top 10 richest Indians slot after being ranked 25th in last year's list. Ranked 8th on the list now, Balkrishna his wealth grow 173 per cent in the past year to an estimated Rs 70000 crore. "The company (Patanjali Ayurved), with a turnover of INR 10,561 crore in 2016-2017 has been a close competition to major international brands. He (Balkrishna) owns close to 94 % of Patanjali Ayurved and is the brain behind the admirable growth of Patanjali as a consumer brand," the Hurun Report states.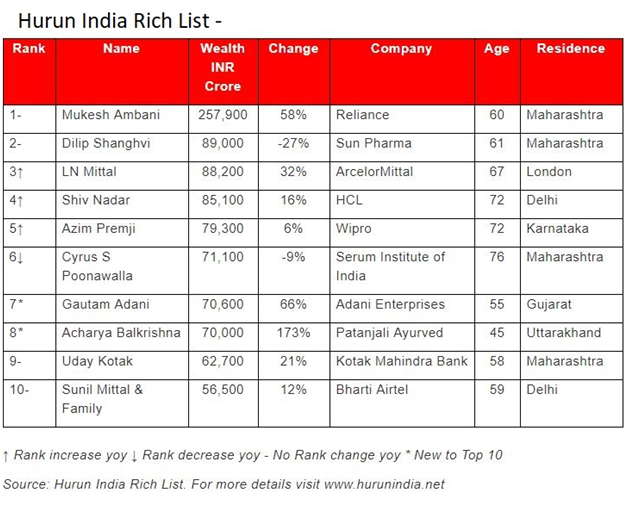 On an average, the report said, that wealth of those Indians who have made it to the list has risen by 11 per cent (4 per cent higher than India's GDP growth rate). Furthermore, at least 16 billionaires on this list witnessed their wealth double during the last year.
Another notable performer was Kishore Biyani of Future Retail who registered a 259 per cent wealth increase. "Merger of Future Retail and Bharti Retail created the biggest supermarket chain with a turnover of INR 15,000 crore and its subsequent relisting resulted in significant wealth creation for Biyani," the Hurun Report said.
Interestingly the list, usually seen as a men's only domain considering that most big corporates – usually run by families – in India are represented by male members, has also seen a 300 per cent increase in the representation of women.
Women comprise around 8.6 per cent of the total list of the dollar billionaires identified by Hurun. "The richest women are Savitri Jindal of OP Jindal Group with INR 46,500 crore, followed by Smitha V Crishna of Godrej, Indu Jain chairperson of Time Group. The richest self-made woman in India is biotechnology queen Kiran Mazumdar-Shaw of Biocon with INR 15,400 crore. Average age of women in the list is 56," the Hurun report says.
"Demonetization, GST implementation and so on, have not impacted wealth creation in organized sector; in fact, going by the trend in the list, the aforementioned factors seem to have positively impacted the mega rich and their companies. Despite a solid performance of the corporates, a declining trend in national GDP growth points to impact of such schemes on the unorganized sectors", said Anas Rahman Junaid, MD and Chief Researcher, Hurun Report India.
Beating the perception that demonetisation had severely hit India's real estate sector – given the notion that a large number of land deals are executed in the shadow economy and the fact that developers have been reneging on promises of handing over possession of flats to homebuyers citing a funds crunch – the report says this sector registered the maximum gain in the last fiscal.
"At a sectorial level, Pharmaceutical / Healthcare (-12.8%) and IT (-5.1%) underperformed among the sectorial indices. All the others performed with at least 15% return – the biggest gainer was realty with a 36.3% return year to date. Indian drug makers are facing pricing pressures and greater regulatory scrutiny in their largest market, the US," the report says.