While its minister has warned of half-a-million job cuts in the manufacturing sector, his promise of rehabilitating these workers in the service sector seems hollow as the figures available simply do not add up
By Sujit Bhar
Here are two news items on the employment scenario in China. Together they present an interesting mosaic on the employment scenario in China.
The first, reported by the Associated Press and (AP) carried by US' leading daily USA Today, says that Chinese labour minister Yin Weimin said at a press briefing in Beijing that China will cut 500,000 more steel and coal jobs this year "to reduce excess production capacity."
This was purportedly in reaction to complains in international trading circles of the dumping of cheap Chinese products, wreaking havoc with price structures and weights on commodity exchanges.
The second, issued by news agency IANS on March 2, also from Beijing, and also quoting the same minister, Yin Weimin, talks about how China had "created over 13 million urban jobs for four consecutive years, despite downward pressure and industrial restructuring in the Chinese economy." This piece of information was provided by the minister to the People's Daily Online.
Trying to understand Chinese double-speak is like studying Egyptian hieroglyphics, where every gesture and every picture could have many meanings. 
Let us try to make sense of these two.
The bad news first.
AP talks about China's huge effort to shrink its bloated industries including steel, coal, cement, aluminium and glass. It is a known fact that China had more installed capacity than even the worldwide demand. Aided by subsidies, these conglomerates (mostly government-owned or partly state-owned) pushed goods across the oceans, dumping cheap products in western countries and also India, taking advantage of WTO loopholes.
With the arrival of President Donald Trump on the American scenario, the clamour for restricting Chinese supplies has grown. Europe, too, has been up in arms to protect local industries. This has resulted in massive job cuts. The minister had said at the press conference that those laid off will get government help to find other jobs, start companies or retire.
Yin was quotes as saying: "This year, to reduce excess capacity, we need to make accommodation for 500,000 workers." This, in plain speak, means half a million will be sacked.
Last year 726,000 workers lost their jobs in the same sector.
The minister said that this was 40 percent of the 1.8 million jobs that were to go. While the minister said that they too were provided help to restructure their lives and finances, several reports elsewhere have narrated how these workers simply had to return home to their farms, jobless, hopeless.
Now the supposed good news.
Yin has reportedly said that the "unemployment rate in Chinese cities was relatively low over the past four years." How has he arrived at such a conclusion? He talks about four factors.
The first is the most stupendous, contradicting all major studies around the world. This is about what Yin calls "sustained economic development". He talks about last fiscal where China's GDP growth was 6.7 per cent, pushing the country's GDP to $10.8 trillion.
However doubtful the first assumption (or clarification) may be, the second lets you peek into the truth. He talks about constant restructuring of industry, to optimise each sector. What does that mean? Yin reveals in his next statement.  "Tertiary industry can create on average 20 per cent more jobs than the secondary industry," he has said.
He pointed out that "last year, the tertiary industry's contribution to China's GDP was as high as 51.6 per cent, 11.8 percent higher than that of the secondary industry."
We need to talk about this in further detail, but the third factor Yin mentioned about was "reform." This actually elaborates on the second factor, as we will come to know in a while.
Regarding reform, the minister talked about administrative reforms in government and "business reforms", "cultivating mass entrepreneurship and innovation."
So what manner of number crunching has the ministry engaged in while explaining two apparently disparate industry factors?
To get to the bottom, we need to understand the nature of "tertiary industry".
Tertiary industry, as per definition, is "industry that provides services rather than producing goods, or these industries considered as a group."
China has been, as announced, moving more towards the service sector, trying to reduce its dependence on the manufacturing sector. But how does that explain the employment scenario?
The following pie chart shows how the Chinese depict their stride into the service sector world (2013):
One would expect this to be good news, till one studies this Slate.com graph on the employment in the different sectors in 2010.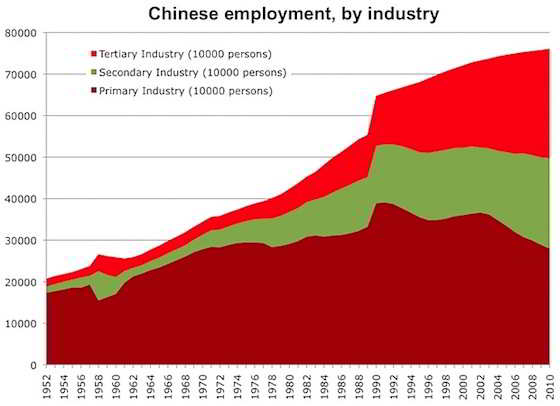 Basically the "reform" is moving workers out of the manufacturing sector and retraining them for the service sector. The numbers don't add up, sadly. The claims are as hollow as the overall system in China is. For the service sector to absorb all excesses in the manufacturing sector there has to be massive domestic demand (in India, the GDP is spurred by a huge 56 percent domestic demand).
China's export-driven economy has not been able to adjust as quickly as it would have wanted. Only a small percentage of those laid off are being re-absorbed, also at lower salaries. How that provides such a boost to the overall GDP is a mystery.
Double-speak is a nature of Chinese diplomacy. Reading between the lines should be a nature we should develop in understanding Chinese diplomats.