Uttar Pradesh chief minister Yogi Adityanath Lucknow woke up on Saturday to the sight of tonnes of potatoes strewn on the roads.
Farmers frustrated at un-remunerative prices for their produce had brought tonnes of unsold potatoes in tractor-trolleys, trucks and dumped them on roads, right in front of the CM House and UP State Assembly.
With the price crashing to Rs 4 per kg, the farmers are demanding a minimum of Rs 10 per kg.
The government response was typical. The development sent the district administration and security officials in a tizzy as the act was carried out in high-security zones.
UP Agriculture Minister Surya Pratap Shahi called it a conspiracy by opposition parties to defame the government. He said the government will hold an inquiry on where the potatoes came from.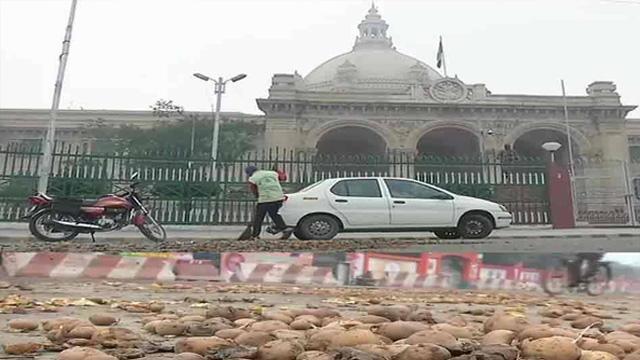 Senior Superintendent of Police (SSP) Lucknow Deepak Kumar said the vehicles of the farmers, who were involved in throwing potatoes have been identified and that they would be acted upon.
Farmers, however, said they have not done anything wrong as this was a symbolic protest against the government and its policies.
UP had seen a record production of 155-160 lakh metric tonne potatoes during 2016-17 and the state government after a cabinet meeting in April last year, had decided to buy the produce at a rate of Rs 487 per quintal.
The procurement, of nearly one lakh metric tonne potatoes, was to start immediately. CM Adityanath had also reached out to the central government and asked Union agriculture minister Radha Mohan Singh to ask other states to procure potato from UP. CM Yogi Adityanath also wanted potato crop from the state to get prominence for procurement in the Centre's E-National Agricultural Mart.
News18 quoted a farmer leader, Harnam Singh as saying: "The government might have announced a basic MSP but the procurement is next to nil. Also, the support price of Rs 487 per quintal is not enough. They have not taken into account the money paid by farmers to store their produce in the cold storages. In such a situation farmers are forced to dump their produce on roads."
Singh added that the government was only interested in handing out figures about their help to farmers. "Figures don't help or provide any relief to farmers. Farmers sit on dharna in this cold weather and no one cares. If the government does not wake up now, it will face consequences," News18 said, quoting him.