Operation will prevent people from drinking by the roadside
By APN Correspondent
The newly elected BJP government in Uttar Pradesh has been trying to activate the slow-moving administration and introduce reforms in public life. After its Anti-Romeo Squads, another move is underway—to implement the law prohibiting drinking in public places. The 'Anti-Cheers' operation was launched on March 24.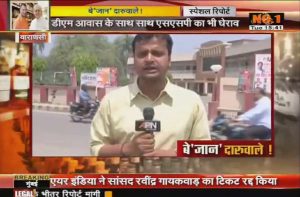 APN aired a special report, Bejaan Daroowale, on Tuesday, depicting the stern action taken by law enforcement agencies in various districts in Uttar Pradesh. Visuals contributed by reporters and stringers from various cities were used. The police and administration officials provided details of the ongoing operation. 
The Anti-Cheers operation will prevent people from drinking by the roadside and in the open in public. If anyone is found violating the law, legal action will be taken against the person.
Meanwhile, the women of Varanasi are on the streets, demanding that most of the liquor shops, including licensed ones, be shut down.