USA and Greece stands in the bottom position due to their various internal issues
Surpassing  the other countries, India has topped in a survey conducted by the Organisation for Economic Co-operation and Development (OECD) on how much a country trusts its government. The report 'Government at a Glance 2017'  revealed that with 73 percent, India sits firmly at the top, while Canada under Justin Trudeau's government comes second having earned the confidence of 62 per cent of its people. Turkey (58 percent), Russia (58 percent) and Germany has also secured spots in top five.
However, Greece was given the lowest rank as it continues to struggle with its finances and global loan defaults, and has been bailed out by the European Union.
Also, the  United States with merely 30 percent was unable to grab the higher position because of the ongoing President Donald Trump controversies over the various  fake news, scandals and allegations over Russian collusion.
According to the experts,  government trust levels are generally determined by whether or not people consider their government stable and reliable, if it's able to protect its citizens from risk and whether it can effectively deliver public services.
Trust in government serves as a driving force for a country's economic development, makes governmental decisions more effective and leads to greater compliance with regulations and the tax system.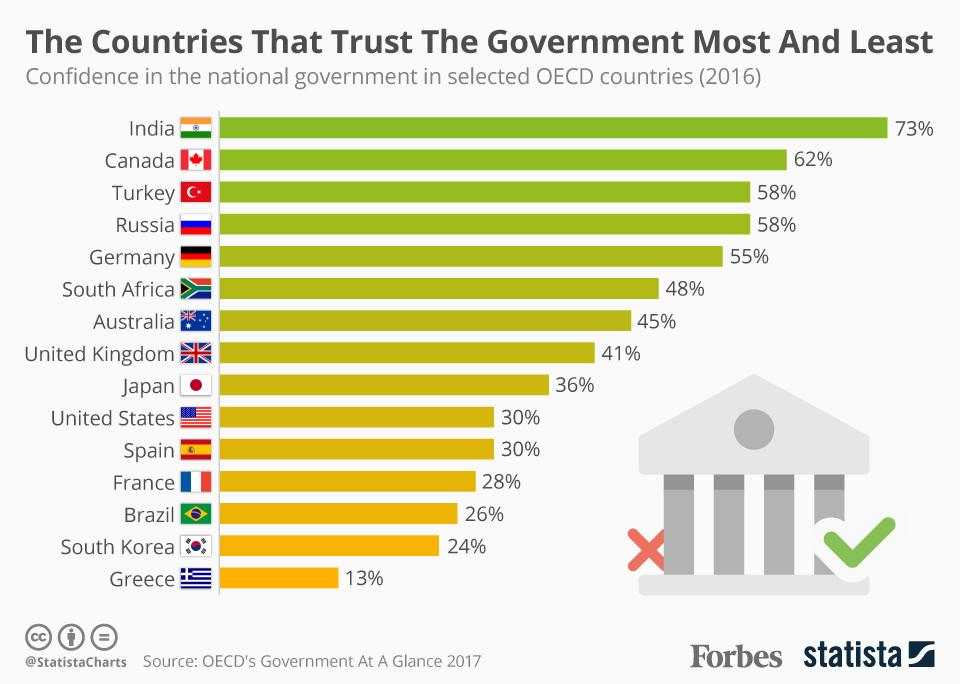 The main aim of the OECD is to promote policies that can improve the economic and social well-being of people around the world. It also provides a forum in which governments can work together to share experiences and seek solutions to common problems.
This organisation also looks at issues that directly affect everyone's daily life, like how much people pay in taxes and social security, and how much leisure time they can take. It also compares how different countries school systems are readying their young people for modern life, and how different countries' pension systems will look after their citizens in old age.