Defence minister Nirmala Sitharaman on Monday told Parliament that China was building infrastructure, including sentry posts, trenches and helipads in Doklam, the tri-junction with China and Bhutan.
This is the first time the government has conceded continuation of Chinese activity in the area which saw a prolonged standoff between Indian and Chinese troops over road construction by the latter. The issue was said to have been resolved on August 28 with China ceasing road construction and both sides withdrawing their troops from a situation of eyeball to eyeball confrontation.
News reports in the past few months, however, had suggested a Chinese build-up in the area.
On Monday, in a written reply to a question in Rajya Sabha, the defence minister said China has built helipads, trenches and other infrastructure in Doklam to maintain its troops during winters.
Asked if it is a fact that China has constructed seven helipads in Doklam and tanks and missiles have been stationed there, Sitharaman, in a written reply to the Rajya Sabha said that the troops on both sides have "redeployed themselves away from their stand-off positions" but the troop strengths on both sides have gone down.
"In order to maintain these troops during the winter, the People Liberation Army (PLA) has undertaken construction of some infrastructure, including sentry posts, trenches and helipads," Sitharaman said.
Avoiding a direct response to the second part of the question, asked by Congress leader Motilal Vora, as to whether China can use this infrastructure against India or if India spoke with China on this particular issue, Sitharaman just said the government "regularly" takes up such issues with China.
"The Indian government regularly takes up the issues pertaining to the Line of Actual Control (LAC) with the Chinese side through established mechanisms including border personnel meetings, flag meetings, meetings of working mechanism for consultation and coordination on India-China border affairs, as well as through diplomatic channels," she said.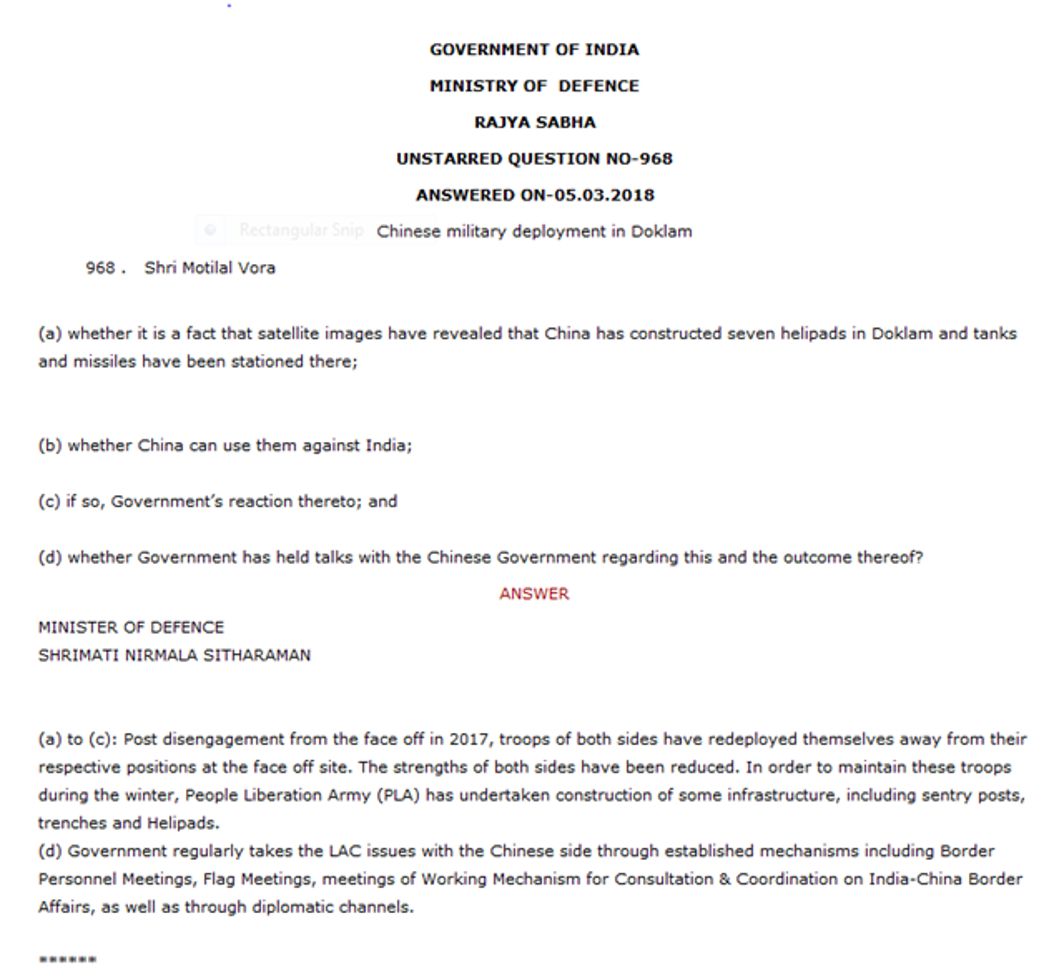 A few days back, Minister of State for Defence Subhash Bhamre had, while addressing an army event, was reported to have said that the situation along the LAC is "sensitive" and has the "potential of escalation".
Troops of India and China were locked in a 73-day-long standoff in Doklam from June 16 last year after the Indian side stopped the building of a road in the disputed area by the Chinese Army. The face-off ended on August 28.
Several media reports citing satellite imagery said China has been keeping its troops in north Doklam and significantly ramping up its infrastructure in the disputed area. Beijing has also been upgrading and widening the existing routes in the region, said reports. In January, Army Chief Gen. Bipin Rawat had said the time had come for India to shift its focus from borders with Pakistan to the frontier with China, indicating the seriousness of the situation.
Air Chief Marshal BS Dhanoa too was reported to have admitted that the Chinese soldiers were present near the Chumbi valley. It was also being said that a Chinese division of more than 12,000 soldiers, 150 tanks and artillery guns were moved to the region and the PLA had also not removed the tents and construction equipment since the disengagement.
To a separate question on a Pentagon report which said China was setting up a military base in Pakistan, Sitharaman said the government keeps a constant watch on developments having a bearing on India's security and takes measures to safeguard it.
"Government is aware of China's stated objective of becoming a 'maritime power'. As part of this strategy, China is developing ports and other infrastructure facilities in the littoral countries in the Indian Ocean Region, including in the vicinity of India's maritime boundary," she said.
She said India and China have, on several occasions, reiterated that as large neighbours following independent foreign policies, the relationship pursued by the two nations with other countries must not become a source of concern for each other.