The Haryana government is also looking into how Honeypreet was allowed to board the chopper in which Ram Rahim was taken to the Rohtak jail
The Haryana police, on Friday, issued a lookout notice against Honeypreet 'Insan', the 'adopted daughter' of jailed Dera Sacha Sauda chief Gurmeet Ram Rahim Singh. According to reports, the police have issued an alert for Honeypreet at the airports and all other exit points.
Honeypreet is charged with sedition for allegedly instigating the violence that was unleashed by Dera followers across Haryana, Punjab, Delhi and Rajasthan last Friday when a special CBI court in Haryana's Panchkula town convicted Gurmeet Ram Rahim on the charge of raping two of his followers in 2002. Honeypreet is also accused of attempting to free the Dera chief after the conviction.
Besides Honeypreet, who was a constant companion of Gurmeet Ram Rahim right until his 20-year jail term was announced on Monday this week, a lookout circular has also been issued for key Dera functionary Aditya Insan. Aditya has also been charged with inciting Dera followers to resort to violence after Gurmeet Ram Rahim's conviction.
The riots caused by Dera followers had led to the death of 38 people – all in Haryana – while property worth several crores of rupees was gutted in four states – Haryana, Punjab, Delhi and Rajasthan – where the Dera Sacha Sauda enjoys a formidable mass support.
There are conflicting reports on Honeypreet's present location. Some reports say she is living in the house of a Dera follower in Rohtak while others say that she has gone into hiding.
The police believe that Honeypreet and Aditya had together plotted the escape of Gurmeet Ram Rahim after his conviction. Earlier this week, a senior police official who was part of the security cordon that took Gurmeet Ram Rahim to the Sunaria jail in Rohtak after his conviction had given a detailed description of the failed plot for the Dera chief's escape. The police official had said that soon after his conviction, Gurmeet Ram Rahim had asked one of his armed body guards to fetch a red bag from his car saying his clothes were in it. The bag, the police official said, was a signal for his supporters to resort to violence to create chaos in the area.
The officer also alleged that his armed body guards had gheraoed the Dera chief, preventing him from being taken in a police vehicle. However, after a scuffle with his bodyguards, the police was successful in taking Gurmeet Ram Rahim to the helipad through a different route.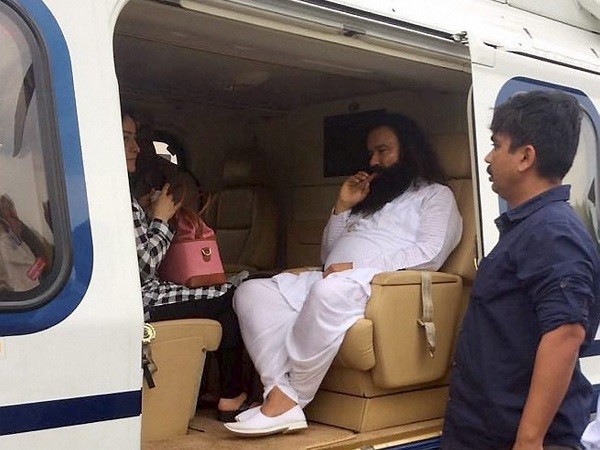 The Dera chief was flown to the Sunaria jail in a chopper and for reasons that are now under investigation by the Haryana government, Honeypreet was allowed to accompany the Dera chief in this helicopter in abject violation of established protocol.
It is learnt that Honeypreet also clashed with the authorities at Sunaria jail, demanding that she be allowed to stay with the rapist godman in jail. Gurmeet Ram Rahim had claimed that Honeypreet was an "acupressure specialist" who would help ease his chronic back pain.
Not much is known about Honeypreet's past or how she became so involved in the affairs of the rapist godman and his Dera Sacha Sauda but there have been some claims that she is Gurmeet Ram Rahim's adopted daughter and he depended immensely on her in running his Dera empire.