The AIADMK factions led by Tamil Nadu chief minister Edappadi Palaniswami and his predecessor O Panneerselvam had almost worked out the merger planon Friday and were to announce it at the Marina memorial of J Jayalalithaa but the announcement was delayed due to hard negotiations from both sides



After several rounds of hectic deliberations and a 'false alarm' that saw hundreds of AIADMK supporters line up at late chief minister J Jayalalithaa's memorial at Marina beach on Friday night, it appears that the merger plans of the party's rival factions led by chief minister Edappadi Palaniswami and his predecessor O Panneerselvam are now final.
If sources within the two rival camps are to be believed, the merger of the Palaniswami (EPS) and Panneerselvam (OPS) camps is likely to be formalised on Monday to coincide with the lunar phenomenon of Amavasya (new moon night) which is considered auspicious in Tamil Nadu.



On Friday – a day after EPS accepted the Panneerselvam faction's key demand of announcing a judicial probe into Jayalalithaa's death and converting her Veda Nilayam residence in Chennai's Poes Garden into a memorial – the two rival camps had come close to announcing the merger. The big announcement was to be made by the two factional leaders – EPS and OPS – at Jayalalithaa's memorial on Marina Beach, which had even been decked up with flowers and lights.
However, as the two factions continued to discuss the fine-print of the merger till late on Friday night, the mammoth crowd that had arrived at Amma's (as Jayalalithaa is popularly referred to) memorial braving heavy showers, began to disperse.
There was speculation in the local media that the merger announcement was delayed due to dissensions within the OPS camp and since the Tamil Nadu chief minister declined to give in to several demands made by Panneerselvam – key among them being huge representation of his faction in the state cabinet, various corporations and also the party. EPS is learnt to have accepted only a few names put forth by OPS for key assignments and portfolios within the party and his government.
On Saturday, in an indication that he had accepted the terms outlined by OPS, Panneerselvam said that the merger talks are "going smoothly" and that a "good decision can be expected in a day or two".
Panneerselvam, who spoke to media persons at his Greenways Road residence where he had been busy in parleys with members of his camp, also dismissed reports of dissensions within his ranks.
Sources said that the delay in announcing the merger could also be because of Palaniswami's reluctance in accepting the OPS camp's demand of him publicly announcing that jailed interim general secretary of the AIADMK VK Sasikala – a close aide of the late Jayalalithaa who had attempted an intra-party coup against OPS when he was chief minister and eventually caused his ouster – stood expelled from the party.
The OPS faction had also been pressing for a formula under which EPS could continue as chief minister while Panneerselvam would be named AIADMK general secretary. However, it appears that this demand has been dismissed and Panneerselvam might have to settle for the deputy chief minister's post.
Meanwhile, both EPS and OPS factions seem to have hit a hurdle over the announcement of converting Veda Nilayam into a museum showcasing the life and career of Jayalalithaa. The former AIADMK chief's niece, Deepa Jayakumar, has not only questioned Palaniswami's decision of a probe into Amma's death but has also opposed the move to convert her residence into a museum.
"For madam Jayalalithaa, the only legal heirs are myself and my brother Deepak. We have not been consulted about turning her residence into a museum… they have no legal right to make this announcement without consulting us," Jayakumar told media persons in Chennai.
Background to the factional feud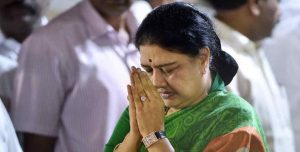 In the days prior to Amma's death, the party had elected Panneerselvam to act as chief minister and he was sworn-in to the office immediately after Jayalalithaa was pronounced dead. However, in the days following her demise, while Sasikala was still contemplating her political moves, Panneerselvam announced that he had "heard the voice of his conscience and of Amma" and will stay on as chief minister. Sasikala's faction of the party had come out in open rebellion against OPS, calling him a traitor, and imploring Sasikala to take over as chief minister.
However, the Supreme Court convicted Sasikala for four years in a disproportionate assets case, effectively nixing any chance of her taking on the executive role after which EPS was sworn-in as chief minister. The party has ever since been divided into three factions, those led by Sasikala and her nephew TTV Dhinakaran, OPS and EPS.
The merger between these rival AIADMK factions is crucial for the party to get back its election symbol – two leaves – which the Election Commission had suspended after the split. Also, since Amma's demise, the party has been floundering in search of one leader behind which the cadre can stand firmly. This has left the political space in Tamil Nadu wide open for the party's principal political rival – M Karunanidhi's DMK. Perhaps more importantly, the factional feuds is also giving a golden opportunity to the BJP to either gain its own space in Tamil Nadu politics or work towards an alliance with whichever faction of the AIADMK gives it more tactical strength.