Surya Vajpayee, APN Correspondent



Farrukhabad city, some 190 kilometeres from Lucknow, witnessed an unprecedented situation in its District jail on March 26. The prisoners, in a reaction on supply of bad quality food, started pelting stones on the security personnel in the morning. The inmates also set some furniture and other stuff on fire.
The situation continued grim for a very long time. Senior administration and security officials immediately reached and tried to reconcile the prisoners. But these efforts remained unanswered. The inmates pelted stones from the rooftops of the prisoners' barracks.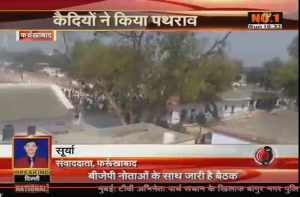 Apart from a large number of police personnel, Acting district magistrate N.C. Pandey, Jail Superintendent Rakesh Kumar, and Fatehgarh Police Kotwali in-charge Ashok Nigam were also injured in the incident. Some injured prisoners were also seen being carried to the hospital for treatment.
The jail administration used alarm and siren to defuse the situation. The administration has deployed a large number of police personnel in the jail.  The situation was grim while report published.