Fighting already underway, says Kurdish official
The US plan of raising 30,000-strong Kurdish army in Syria's north-eastern region has swiftly met with stern opposition from Moscow, Ankara and Damascus. Turkey has sent military reinforcements to counter the move while Russia and Syria have strongly condemned the US move.
Aljazeera quoted Turkish official Anadolu news agency reports that two dozen armoured vehicles had entered Reyhanli district of southeastern Hatay province, and 20-vehicle army convoy had also arrived in Viransehir district on Monday. These forces are reportedly sent to assist the military units already deployed in the area.
The reaction came after reports revealed that Washington has planned to establish a 30,000-strong new border security force with the involvement of Kurdish fighters in northern Syria with an aim of securing areas along its border to the north with Turkey and to the east with Iraq.
The reports had indicated that at least half of  the proposed force  will be made up of the Syrian Democratic Forces (SDF), an umbrella group of Kurdish fighters dominated by the  Syrian Kurdish People's Protection Units (YPG),  seen by the US a highly effective ground force against  Daesh (IS).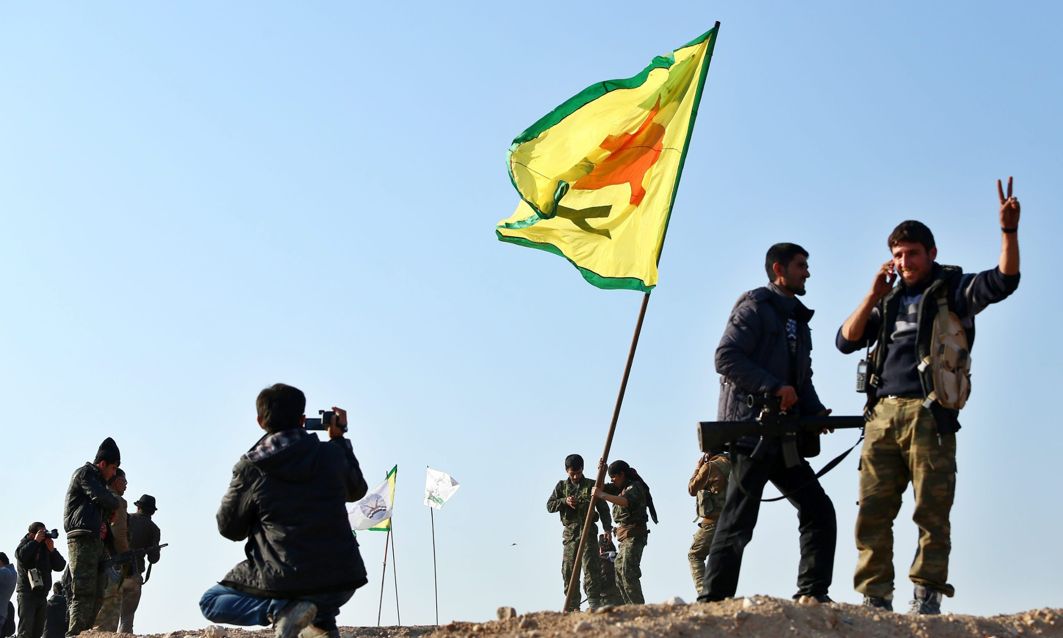 Turkey considers YPG to be a "terrorist group" with ties to the banned Kurdistan Workers' Party (PKK), responsible for waging a decades-long fight inside the country. PKK has allegedly killed more than 40,000 people in Turkey since the 1980s.
On Sunday, Turkish President Recep Tayyip Erdogan had said that a military operation in northern Syria against the city of Afrin – controlled by the Syrian Kurdish People's Protection Units (YPG) – would be launched "in the days ahead". A senior Syrian Kurdish official has also confirmed on Sunday about the fighting already under way. Reports of intense smoke coming out of Afrin's Nesreyieh region have also come in.
Erdogan also said on Monday that US was working to form a "terror army" on his country's southern border by training a new force in Syria that includes Kurdish fighters. He said, "What we are supposed to do is to drown this terror army before in comes into being," and warned US authorities by calling the Kurdish fighters "back-stabbers" who will point their weapons towards Washington in the future.
Meanwhile, Russian Foreign Minister Sergey Lavrov has said that the "The [US'] actions that we have been observing indicate that the US does not want to keep Syria as a state in its current borders."
While addressing a press conference in Moscow, the Russian top diplomat said,   "The US wants to help the Syrian Democratic Forces to set up some border security zones. What it would mean is that vast swaths of territory along the border of Turkey and Iraq would be isolated, it's to the east of the Euphrates river. There are difficult relations between Kurds and Arabs there. If you say that this zone will be controlled by the forces supported by the US, there will be a force of 30,000 people."
Lavrov said that the US move would be "a very big deal", raising "a lot of question marks". He added, "There is a fear that they are pursuing a policy to cut Syria into several pieces."
The new US plan of establishing 30,000-strong Kurdish force came after Daesh (IS) defeat in Syria and Iraq. US claims of leading anti-Daesh coalition in Syria and Iraq, but both the host governments have expressed their suspicion of Washington's support to the terror groups. Iran has played important role in defeating Daesh in both the countries with the presence of their military advisors.