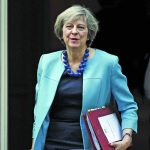 It was with reluctance that I decided the country needs this election, but it is with strong conviction that I say it is necessary to secure the strong and stable leadership the country needs to see you through Brexit and beyond.
—British PM Theresa May, calling for early elections in June
We are an immigration nation, but the fact remains Australian workers must have priority for Australian jobs, so we are abolishing the 457 visa, the visa that brings temporary foreign workers into our country.
—Australian PM Malcolm Turnbull, on scrapping the skilled visa scheme
Usual India media hype: Extradition hearing started today as expected.
—Liquor baron Vijay Mallya on getting bail after arrest
If senior functionaries like AK Walia can be sidelined, it is pointless to be here. I felt unwanted and unheard as I struggled to meet Congress vice-president Rahul Gandhi.
—Former Delhi Congress president Arvinder Singh Lovely on why he joined the BJP

I like that name (Universe Boss). Fans want to watch Chris Gayle, it's been fantastic. A special occasion to reach 10,000 runs. People still looking out for Chris Gayle. The Universe Boss is still here and still alive.
—West Indies opener Chris Gayle, on reaching 10,000 runs in T-20 cricket
In 1967, few would have believed that marathon running would someday attract millions of women, become a glamour event in the Olympics and on the streets of major cities, help transform views of women's physical ability and help redefine their economic roles in traditional cultures.
—First woman marathoner Kathrine Switzer upon completing the Boston race at 70
Will seek legal recourse against this. Will move higher court.
—BSF jawan Tej Bahadur Yadav upon being dismissed from service