It is the dawn of a new era in the hills. The hills are smiling.



—West Bengal CM Mamata Banerjee, on winning the Mirik municipal elections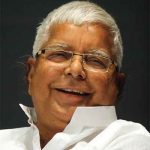 There are millions of thousands of Lalus in Bihar.
—RJD supremo Lalu Prasad Yadav's tweet after the latest corruption controversy hit him
The government, using the CBI and other agencies, is targeting my son and his friends. The government's aim is to silence my voice and stop me from writing.
—Senior Congress leader P Chidambaram, following raids at his premises
We want to see the realization of a sovereign, independent, united and viable Palestine, co-existing peacefully with Israel.
—PM Narendra Modi, on friendly relationship between Palestine and Israel
As president I wanted to share with Russia which I have the absolute right to do, facts pertaining… to terrorism and airline flight safety.
—US president Donald Trump, after reports emerged that he shared classified information
A lot of people complained that Bieber was lip-syncing and not really singing. Yes, he wasn't singing. I mean he was chewing gum and drinking water while singing some songs.
—Actor Rohit Roy, on the Canadian singer's concert in Mumbai