The denial itself carries no credibility… cover firing to those who carried out the attack with posts within a few metres of each other cannot happen without the indulgence of the Pakistan army



—Defence minister Arun Jaitley, on Pakistan denying its involvement in soldiers mutilation
They (Sonia and Rahul) can unite everybody who's willing to come with them. But the BJP's shortage is only 20,000 value votes, may be even less. There are certain parties which will not come if some other parties are in it. For example, the AIADMK will not come if the DMK is there.
—BJP leader Subramanian Swamy, on Congress's agenda to unite everyone for the presidential elections
Recently she [Bollywood actress Kajol] had posted a video online following which she was harassed and trolled online. She had to clarify that it was not beef but buffalo meat. It is an alarming situation.
—West Bengal CM Mamata Banerjee, expressing her concerns regarding rising intolerance of beef eating
They (West Bengal government) have a very strange attitude. They don't come for any meetings. I'm writing to the CM to at least send somebody for meetings.
—Union water resources minister Uma Bharti on Namami Gange projects in the state
The proposed rules will water down, instead of strengthening the Act. Clause 12 will incentivize people to harm activists.
—RTI Act campaigner Harsh Mander on Draft Rule 12 which provides for closure of cases on the death of appellants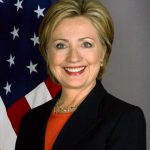 If the election had been on October 27, I would be your president.
—US politician Hillary Clinton after her return to public life six months after losing the presidential elections
The experience cloud is the largest growth opportunity right now, targeting the enterprise customer, whether it is the chief revenue officer or the chief digital officer. It's an opportunity to spread our vision beyond just the marketing function in the enterprise.
—Adobe CEO Shantanu Narayen, on the potential growth of cloud data in future