To mark the 75th anniversary of Mahatma Gandhi's Quit India Movement, both houses of Parliament debate the country's past and present. Prime Minister Narendra Modi calls for 'sankalp se siddhi' but Opposition reminds government of the threat to freedom of expression, India's secular ethos



As both houses of Parliament participated in a discussion to mark the 75th anniversary of Mahatma Gandhi's 'Quit India' call to the British, Prime Minister Narendra Modi termed corruption, poverty and illiteracy as "the greatest challenges" facing India today and sought special initiatives to end these over the next five years.
While Modi took the opportunity to move his 'sankalp se siddhi' (accomplishment through resolve) campaign, the Opposition took advantage of the Prime Minister's presence in the House to attack him and his government for the growing threat to India's secular and democratic fabric and the Constitution in the wake of rising incidents of caste and communal violence and the perception of a tacit approval by the State to muzzle any form of dissent.



The Prime Minister re-phrased Gandhi's oft-quoted mantra during India's freedom struggle – Karo ya maro (Do or Die) – into Karenge Aur Kar Ke Rahenge(We will do and surely do) and said that it is this spirit that would help end the ills of corruption, poverty, illiteracy and malnutrition
"In 1942, the clarion call was Do or Die; today it is 'Karenge Aur Kar Ke Rahenge.' The next five years should also be about 'Sankalp Se Siddhi', a resolve which will lead us to accomplishment," Modi said during his 30-minute address.
Asserting that by 2022 – the 75th anniversary of India's independence from the Raj – the country must try to bring positive changes so that it can become an inspiration for other nations, Modi said: "In 1942 (when the Quit India call was given), conditions internationally became favourable for India to gain independence. Today again, global conditions are favourable for India".
Modi said the recollection of movements such as the Quit India was a source of inspiration and the current generation has a responsibility of passing on the legacy of such movements to the future generations.
However, soon after Modi finished addressing the House, Congress president Sonia Gandhi rose to take not-so-subtle jibes at the BJP, asserting that "some organisations opposed the Quit India movement".
Sonia's comment was a pointed reference to VD Savarkar, an icon for the BJP and its parent organization – the RSS, who opposed Mahatma Gandhi's movement.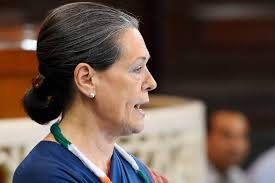 "We must not forget that some organizations opposed the Quit India Movement, such organisations had no role in the freedom struggle," the Congress president said, as Modi listened in.
Given that the Treasury benches, predictably, refused to highlight the contribution of Pandit Jawaharlal Nehru and the Congress party in the freedom struggle, Sonia made it a point to assert that "During the freedom struggle, Pandit Nehru spent several years in jail, many Congress workers died in jail…A lot of atrocities were committed on the (Congress) protesters, but no one stepped back".
Sonia wondered if the "forces of darkness" were trying to destroy the roots of democracy in India today while saying that there was a feeling that the "clouds of the politics of division and hate are hovering over the plural and egalitarian values enshrined in the Constitution".
"It seems secular, democratic and liberals values are being endangered. The public space for debate and difference of opinion is shrinking… Have the forces of darkness emerged? Is there a fear about the existence of a sense of freedom? Are attempts being made to destroy roots of democracy which is based on equality, social justice, law-based system and freedom of expression," Sonia said.
Sonia said that people today have to fight for the India that was envisioned by its founding fathers and that "We cannot and will not allow the idea of India to be a prisoner to narrow mindedness, divisive and communal ideology. If we have to preserve freedom, we will have to defeat the forces endangering it. We can't and we won't allow sectarian forces to succeed".
What other MPs said:
In the Rajya Sabha, CPI (M) general secretary Sitaram Yechury said: "If there is anything that must quit India today, it is the neo-liberal reforms and communalism that must."
In the Lok Sabha, BJD MP Tathagata Satpathy made an impassionate speech, insisting that "We've changed Gandhiji's "karo ya maro" to "kare ya maare", adding that "We cannot afford to give an 'us vs. them' country to our people…We cannot give our teenagers a distorted image of this country. It is sad to see that we, in our petty desires, have forgotten the interests of this country".