After his apology to former Punjab minister Bikram Singh Majithia, Delhi Chief Minister Arvind Kejriwal has written to Union Minister Nitin Gadkari and Congress leader Kapil Sibal, regretting making defamatory remarks against them so as to put an end to defamation cases he is facing.
Sources say the AAP leaders apology spree would continue with Finance Minister Arun Jaitley, Congress leader and former Delhi chief minister Sheila Dikshit and BJP MP Ramesh Bidhuri.
Following the letter, written on Friday, Kejriwal and Gadkari on Monday submitted a joint application in a Delhi court seeking the withdrawal of the defamation case filed by the latter.
Delhi CM Arvind Kejriwal and Union minister Nitin Gadkari filed a joint application for seeking of withdrawn of the defamation case in Delhi's Patiala House Court.

— ANI (@ANI) March 19, 2018
In the letter to Gadkari, Kejriwal wrote, "Both of us are in public life belonging to different political parties. I made certain statements without regard to its verifiability, which seem to have hurt you and therefore you have filed a defamation against me. I have nothing personal against you. I regret the same."
The letter added, "Let us put the incident behind you and bring the court proceedings to a closure. I suggest we should put our energy to serve the people of this country, in the spirit of mutual respect."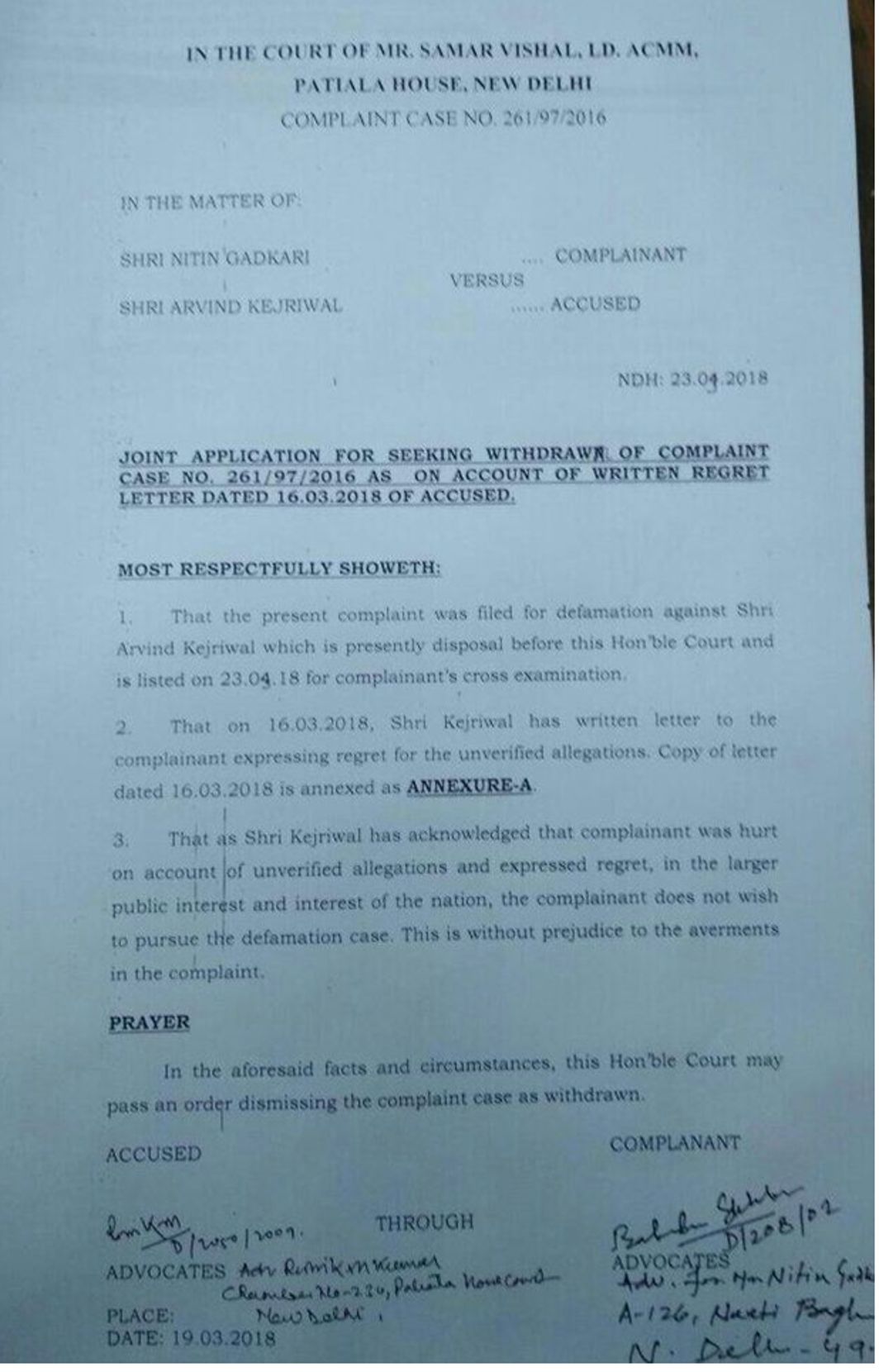 Talking about the issue, Deputy CM Manish Sisodia said, "We are here to work for the public. If someone is hurt by our remarks we will apologize. We do not have time for courts. We do not want to indulge in battle of ego."
Kejriwal also expressed his regret to Congress leader Kapil Sibal and his son Amit Sibal. In a letter, the Delhi CM said, "On 15.05.2013 at a Press Conference at the Constitution Club of India, New Delhi, I made certain statements against you and your father. Now, I have learnt that the allegations I made against you and your father at the press conference were unfounded."
"I hereby withdraw all my statements and allegations made against you and your father and apologise for the same," he added.
Delhi deputy chief minister Manish Sisodia also apologised to Sibal expressing regret and seeking withdrawal of defamation proceedings.
#Delhi CM Arvind Kejriwal sought apology from Congress leader Kapil Sibal

— ANI (@ANI) March 19, 2018
Kejriwal Ji & Sisodia ji have accepted that the allegations they had put on me & my son in a press conference few yrs ago were baseless. They've apologised for the same today. He has apologised for what he did everything is forgotten now, we will move ahead: Kapil Sibal, Congress pic.twitter.com/YUGbldNIpm

— ANI (@ANI) March 19, 2018
Sources say Kejriwal intends to get rid of all 33 defamation cases against him through similar out of court settlements. The cases, say AAP leaders, have been a drain on the party's much money and resources.
Kejriwal's apology to Shiromani Akali Dal leader Bikram Singh Majithia had not gone down well with AAP's Punjab unit and led to a virtual revolt in the party, including the resignation of Bhagwant Mann as AAP's Punjab Unit chief. Various AAP leaders condemned his move, including leader of opposition in Punjab Sukhpal Khaira, who said that Kejriwal's decision reflects 'mental weakness'.
"Strongly condemn Arvind Kejriwal's apology to Bikram Majithia. Nobody was consulted before he took this decision. This shows that he has become weak and also raises questions on his talks with Akali Dal. For me welfare of Punjab's people is most important," Khaira had said.
After this, 10 AAP Punjab MLAs came and met Kejriwal on Sunday, reported The India Express. Kejriwal reportedly explained to them the rationale and his compulsions behinf his move, following which the MLAs said their support for Kejriwal and the fight against former Punjab minister Bikram Majithia would continue, said the IE report.
During the meeting, said the IE report, Kejriwal reportedly put forth the party's view that the BJP government was using four fronts: probes on trumped up charges, the threat of a constitutional crisis, disallowing governance, and the legal threat of frivolous but draining cases across the country, to weaken the party.
According to AAP leaders, the apology is a tactical move. "Kejriwal has so many cases around the country that he is not able to dedicate enough time to Delhi. There are 33 cases against Kejriwal in 22 cities. All have been fast-tracked," say AAP leaders.
An AAP MLA also voiced the party's fears that the Centre wants to put Kejriwal behind bars so that he is unable to fight elections. The IE report, quoting sources, said that AAP leadership was particularly concerned with the criminal defamation case filed against Kejriwal by Union finance minister Arun Jaitley. However, refusing to comment on it, the party simply said "it would try and solve all such cases."
The meeting reportedly helped close the rift Kejriwal's apology to Majithia had created in the party.
Leaders of other parties also reacted to Kejriwal's move to tender apologises.
Omar Abdullah took to twitter and said "Arvind Kejriwal will certainly have less legal problems when he is done apologising but at what political cost? What will his audience think the next time he levels an allegation against someone?"
Arvind Kejriwal will certainly have less legal problems when he is done apologising but at what political cost? What will his audience think the next time he levels an allegation against someone?

— Omar Abdullah (@OmarAbdullah) March 19, 2018
Punjab Chief Minister Amarinder Singh had on Saturday termed Arvind Kejriwal's apology to SAD leader Bikram Singh Majithia an attempt to reduce the burden of defamation cases against him before the 2019 Lok Sabha polls.
"I don't know why he does that but this is no way for a chief minister to behave, irrespective of his lack of experience," an official statement quoted Singh as telling a TV channel. No government can function in isolation, but Kejriwal has completely isolated himself. AAP has completely lost ground in all states, he claimed.
"Kejriwal seemed to have apologised to Majithia over drug charges possibly to prepare for next year's polls. But the fact was that things have turned worse for him," Singh was quoted as saying in the statement.