Abhishek Kumar



Many people around the world were left wondering as to what the honey loving bear 'Winnie the Pooh' did to irk the Chinese authorities when they banned the chubby fictional bear from social media platforms this weekend.
Apparently, Pooh is facing the brunt of Chinese authorities' wrath because he resembles Chinese President Xi Jinping.



Although the authorities have not mentioned any reason for the sudden clampdown, media reports speculate that it's due to comparisons of President Xi Jinping with the fictional character.
The ban came to light after social media posts mentioning Chinese name of the bear suddenly started returning the message 'Content is illegal', over the weekend.
Winnie the Pooh stickers have also been removed from WeChat's official "sticker gallery".
The comparison between Xi and Pooh first emerged in 2013, when Barack Obama visited China. A picture of Xi walking with Obama alongside a picture of Pooh walking with his friend Tiger went viral in the social media as the resemblance was too uncanny to ignore.
Since then, memes comparing Xi with Pooh has surfaced many times in the social media.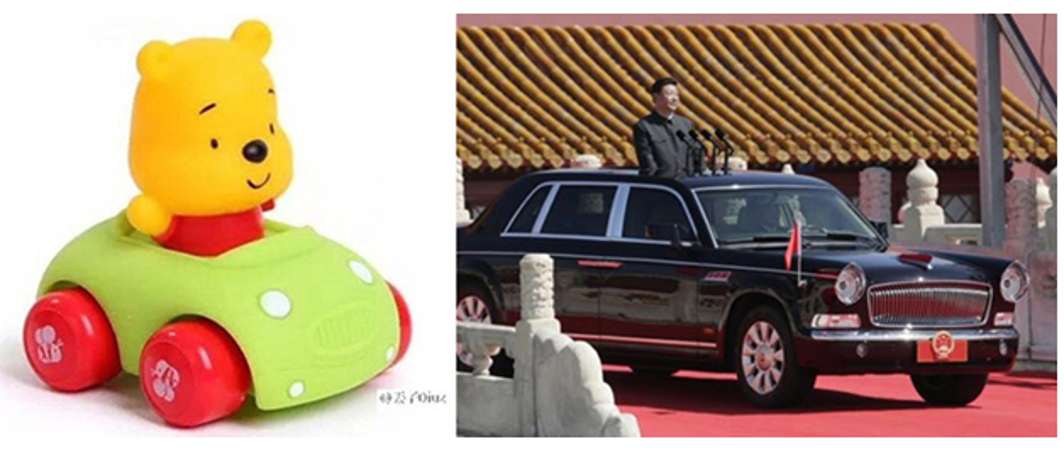 However, the humour is still not lost on many netizens, as they took to twitter to fire their opinions with a tinge of sarcasm and humour.
Some bloggers in China have made fun of Pres Xi Jinping's plumpness by posting pics of Winnie the Pooh. So Pooh is censored....

— John Simpson (@JohnSimpsonNews) July 17, 2017
Xi ain't little; I'm surprised he is being compared to cuddly Pooh because in his mind Eleven thinks he is the Hulk

— Kushan Mitra (@kushanmitra) July 19, 2017
.@badiucao and @remonwangxt on Xi Jinping vs Winnie the Pooh: https://t.co/kievvYrJk0 pic.twitter.com/Bmzf7kkch2

— China Digital Times (@CDT) July 19, 2017
yuzu: shld we go Cup of China next season?
pooh: im banned in China
yuzu:
yuzu: oh bother

— texts from pooh (@poohbear_txts) July 17, 2017
Winnie the Pooh has been banned in China b/c he's an icon for dissidents.
That's probably why Chinese dissent fails so badly.

— Populo Iratus (@cmahar3) July 17, 2017
Earlier this year, another cartoon character had to face the brunt of social media memes. Peace loving comic book character, Pepe-the-frog was transformed into a hate symbol by white supremacists through social media posts during presidential election in USA.
Frustrated with the misuse of his character, its creator Matt Furie had portrayed Pepe as lying dead in a casket, in a post in May.