Iranian leader calls all government agencies to rush for help
Over 300 people were killed in Iran and Iraq on Sunday when a powerful earthquake with 7.4 magnitude hit the region. Most of the casualties were reported from Iranian town Sarpol-e-Zahabi in Kermanshah province, close to Iraq border. More than a thousand others were injured while number of people trapped under the rubble is still unknown.
Tehran based official Press TV reports that as many as 339 were killed in Iran and Iraq and more than 1700 people have been injured. Legal Medical Organisation of Kermanshah has confirmed tracing 207 bodies until Monday morning. National Disaster Management Organization says power cuts have been reported in Kermanshah province. Dozens of villages in western Iran have also seen destruction of varying degrees.
According to US Geological Survey (USGS), the epicentre of the quake, which occurred at around 21.18 hours local time, was 32 km south of the Iraqi city of Halabja in Kurdistan and just across the border from Iran.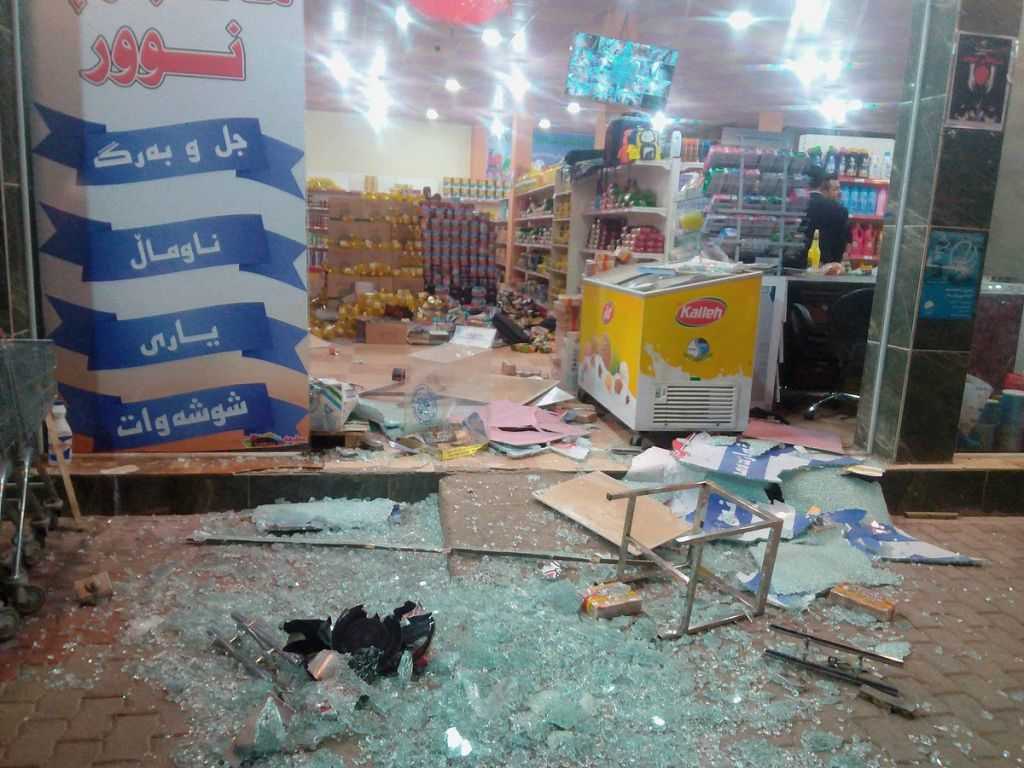 Supreme Leader Ayatollah Khamenei has called on all Iranian officials to "rush to aid of those affected in these early hours (after the incident)" He has also called on Armed forces to help with removing the rubble and transferring the injured to medical facilities.
According to Behnam Saeedi, a spokesman for Iran's National Disaster Management Organisation at least 164 people were killed and more than 1,650 were injured in Iran.
Earthquake was felt in many Iranian provinces but Kermanshah province was hit hard where authorities have announced three days' mourning. Sarpol-e-Zahab, situated about 15 km from Iraq border was the worst hit town in the province where 97 lives were lost.
Meanwhile Iraqi Kurdish health officials said at least four people were killed in Iraq and at least 50 injured. The shocks were felt as far south as Baghdad, where many residents rushed from their houses and tall buildings when tremors shook the Iraqi capital. People were in shock in Iraqi Kurdistan capital Erbil and across other cities in northern Iraq, close to the quake's epicentre.
Several Iranian and Iraqi cities witnessed sudden power cuts where thousands of residents moved to streets and parks due to fears of aftershocks. Approximately 50 aftershocks were registered by the Iranian seismological centre. More than 70,000 people were in need of emergency shelter in Iran.
Iran is situated at major seismological fault lines and is prone to frequent earthquakes. An earthquake of 6.6 magnitudes had devastated historic city of Bam, some 1,000 km southeast of Tehran, in December last year killing about 31,000 people.
In Iraq, the most extensive damage was reported from Darbandikhan, 75 km east of the city of Sulaimaniyah in Kurdistan Region. More than 30 people were injured in the city. A 12 year old boy died in due to electric shock from a falling electric cable in Halabja.
Southern Trukish city of Diyarbakir also witnessed earthquake shocks but there was no report of any casualty or structural damage. However Turkish authorities were, on Monday morning, were waiting for Iraqi response to their rescue offer for the Iraqi Kurdistan region.
Turkish Red Cross Society spokesman has said, "We are coordinating with Iranian and Iraqi Red Crescent groups. We are also getting prepared to make deliveries from our northern Iraq Erbil depot."
Earthquake shocks were felt in many other Iraqi cities including Karbala and Najaf where hundreds of thousand foreign nationals were housed after religious commemoration of Arbaeen, the 40th day of martyrdom of Imam Hussein, held on November 10.
The number of casualties may rise as the rescue efforts were on in several Iranian towns and villages while writing this report.
Tremors were also reportedly felt in Israel, Lebanon, Kuwait, Qatar, Eastern coast of Saudi Arabia and Israel.
Another Earthquake in Costa Rica
Meanwhile a strong earthquake measuring 6.5 magnitude rocked Costa Rica late Sunday at 20.28 local time. However there was not report of casualties or damages. The Public Security Ministry of the Central American country said on its twitter post, "We don't have report of any tragic situations from the recent earthquake."
Channel 16 caught the visuals of camera and table shaking. It also showed images of the people running in supermarket as products were falling on the ground.