We will demand that the machines that were used be provided to us.



—AAP MLA Saurabh Bharadwaj, on original EVMs to be provided to them by the Election Commission to prove rigging
Pakistani-based terrorist groups will present a sustained threat to US interests in the region and continue to plan and conduct attacks in India and Afghanistan.
—Trump's Director of National Intelligence Daniel Coats, on threat posed by Pakistan to other countries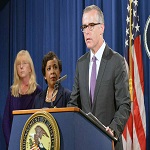 I can tell you also that director Comey enjoyed broad support within the FBI and still does to this day
—Acting FBI director Andrew McCabe, contradicting White House on waning support for former director James Comey in FBI
Any company that just collects rent internationally will be in trouble… Every head of state only cares about one thing: It is about their country first. In the US it is about America first, and in Britain it is about Britain first
—Microsoft's Indian-origin chief Satya Nadella, on generating business for the host countries in order to ensure long-term interests
The rating agencies have been inconsistent in their treatment of China and India. Given this record—what we call poor standards—my question is: why do we take these rating analysts seriously at all?
—CEA Arvind Subramanian, taking a dig at the rating agencies
The majority of the Fifa congress members voted in favour of India. I am also thankful to the Indian judiciary for allowing me to serve and making me what I am today.
—Former Chief Justice of Punjab and Haryana High Court Mukul Mudgal, on becoming the chairman of Fifa's governance commission
I am still working on it. Being a captain is a difficult task. All the cameras are on you and you are being noticed. It's not easy to perform with all the pressure.
—Pune Super Giants captain Steve Smith, on pressure leading the team through play-offs